If you would like to attend the 10:00am Mass, please call or text 832-617-0303 with the Names of everyone that will be attending. Registration starts after Mass on Sunday until Noon on Friday or until capacity is reached.   

Distrit B Accountability Session
District B residents will be able to elect their City Council representative on Saturday, December 12th! TMO institutions will be holding a Candidate Accountability Session where TMO will ask candidates Cynthia Bailey and Tarsha Jackson to respond to issues like trash dumping, flooding, economic development, and to commit to a public working relationship with TMO if elected. TMO leaders will also make commitments to Get Out the Vote for this election.
RSVP Link: https://www.tmohouston.org/districtb
Our Pastor, Rev. Rodney J. Armstrong, SSJ, Asks that we pray the Angelus Prayer at Noon with him every day.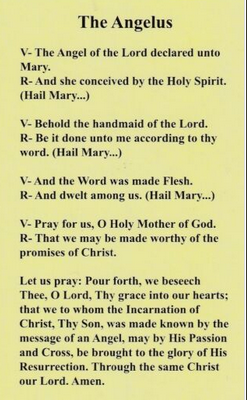 COVID-19 Information
Harris County Area Agency on Aging is assisting older adults 60 and older residing in Harris County who have been impacted by COVID-19 (Read More)
COVID-19 In-Home Health Testing (Read More)
Giving Thanks during a pandemic
We give You thanks and praise,
O God of times and seasons,
but especially during these difficult times
when disease and death have
threatened the whole world with suffering.
Though separated from one another
You remain near to all.
While uncertain as to what
the future may bring
we find comfort in knowing
You hold all things in Your hand.
May this be a time of purification
and penance that we might
number our days aright and
find wisdom to walk in Your ways.
Grant that we never again take
our life, health, breath, food or freedom for granted.
Bless us through our friends and families
and may this food and Your grace give us
strength and courage to follow
You more faithfully through Christ our Lord
Amen
Submitted by Burnell Loche

Online Masses and Liturgies
Sharing the Holy Mass and the Gospel Message online
Click to subscribe and view Our Mother of Mercy Youtube channel for Sunday Live Stream and past Masses
To watch Mass online, click the link below for a list of local parish's livestream schedules.
https://www.archgh.org/resources/health-updates/mass-and-liturgy-livestream-schedule/
We Ask that you continue to make your contributions in support of our parish:

Deliver via Inside Mail chute, Front Rectory Gate will be open Daily from 8:00am - 5:00pm

US mail: PO Box 15640 Houston TX 77220-5640
online giving (see link to the left)


Please remember we have FORMED with a plethora of Faith formation tools, including: Mass, rosaries, bible studies, movies and so much more.