If you would like to attend the 10:00am Mass, please call or text the church office at 832-617-0303, each week before Noon on Friday, with the Names of everyone that will be attending Mass.   

Our Pastor, Rev. Rodney J. Armstrong, SSJ, Asks that we pray the Angelus Prayer at Noon with him every day.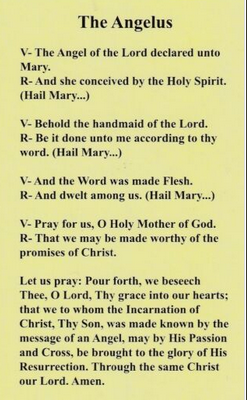 Alert! Alert! Alert!
Early voting has begun in Texas.
The first 40 parishioners to vote, bring your voter receipt to the rectory to receive a free t-shirt!!!!!!
Please add vote picture to the Church Facebook Page.
Thank You!!

ASK Suicide Prevention Virtual Training
Thursday, Oct 29, 2020
10 AM Central Time
(More Info)
COVID-19 Information
Harris County Area Agency on Aging is assisting older adults 60 and older residing in Harris County who have been impacted by COVID-19 (Read More)
COVID-19 In-Home Health Testing (Read More)
Prayer in the Time of the Coronavirus
Comfort us, O Lord, for we are like your disciples on the storm-tossed seas, unsettled by what lies ahead.  We turn to You, our Healer and Guide, to still our hearts in our time of need and hear our prayer.  Heal those who are sick with the coronavirus and protect the elderly and most vulnerable. Give strength to all who tend to our health and wisdom to researchers who work toward a cure. Open our eyes and hearts, as you did during Hurricane Harvey, that we may look beyond our immediate needs to care for others who need help. Through the Holy Spirit, guide our leaders to make wise decisions for the welfare of all the people they serve. Grant eternal rest to those who have died from the virus. May Mary, Our Mother, who has heard our pleas in the storms of our lives, intercede to her Son, that we may find healing and a prompt end to this illness.
Mary, Star of the Sea, pray for us.   Jesus Christ, Our Lord and Savior, heal us.
Amen.
Online Masses and Liturgies
Sharing the Holy Mass and the Gospel Message online
Click to subscribe and view Our Mother of Mercy Youtube channel for Sunday Live Stream and past Masses
To watch Mass online, click the link below for a list of local parish's livestream schedules.
https://www.archgh.org/resources/health-updates/mass-and-liturgy-livestream-schedule/
We Ask that you continue to make your contributions in support of our parish:

Deliver via Inside Mail chute, Front Rectory Gate will be open Daily from 8:00am - 5:00pm

US mail: PO Box 15640 Houston TX 77220-5640
online giving (see link to the left)


Please remember we have FORMED with a plethora of Faith formation tools, including: Mass, rosaries, bible studies, movies and so much more.